July has come and gone and we're getting ready for school in 2 weeks.
2 WEEKS
! While I hate the fact that my late mornings are coming to an end, I adore all that is fall. Magazines in the fall particularly make me smile. The anticipation of glossy pages of fall makes the fact that most of my magazines don't count the month of August, tolerable. I wish I couldn't count August either.
This month the lovely Maranda from
Jolts and Jollies
made the coming fall season that much closer. She made one delicious
Pork Loin With Autumn Vegetables and Mustard Wine Sauce
. It's adapted from an October issue of Cooking Light and I'm so excited to make this when the weather cools.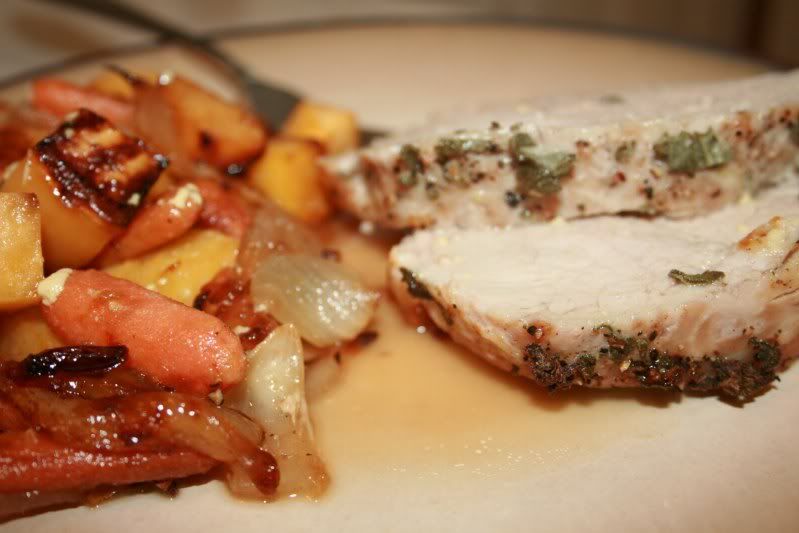 Photos Maranda Jolts and Jollies
Poor Miss Jolts and Jollies even lost a beloved cutting board to this dish and still gives it a thumbs up - it must be good.
Photos Maranda Jolts and Jollies
Her next subscription love is a wonderful quick chicken dish. Miss Maranda has perfected the art of Spanish
rice
(no small feat I tell you!) and you need something scrumptious to go with.
Latin Baked Chicken
fits this bill and there's only 5 ingredients.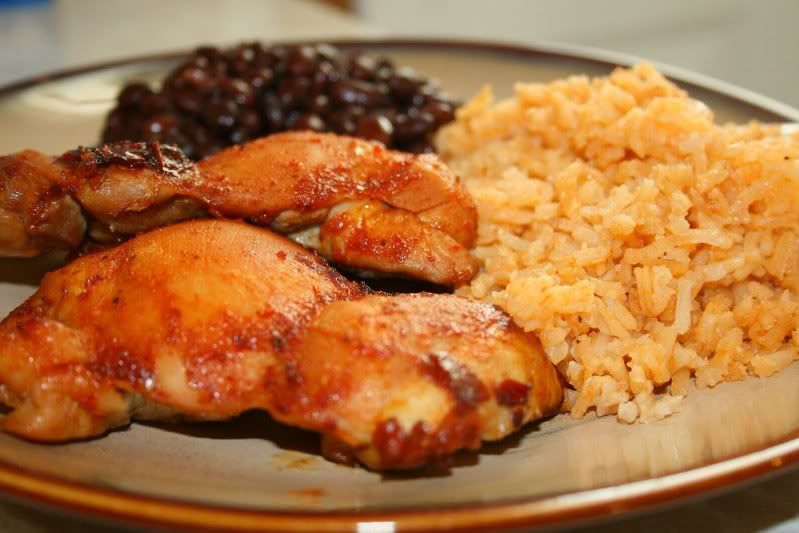 Photos Maranda Jolts and Jollies
Thank you once again Maranda for you Subscription love. As usual they are wonderful choices that I would love to try.
Since I was short some new magazines this month, I decided to dip into my favorites and pull from my stash of saved magazine recipes that I make over and over. I love to try so many new things, but I have a special stash of torn pages that never fails.
I will reveal my true dorkiness and tell you that I have a 3 ring binder of these treasures, organized into categories where pages are carefully tucked into clear page covers. When I do my weekly menu I flip through my binder and pull out any recipe I want to make and slip it into another severely geeky folder (made from recycled Lays bags) labeled "this week". Is anyone still there? Is this too much?
This is a sampling of my favorite pages torn and preserved in ultimate kitchen dork fashion.
One of my favorite recipes ever found is a
lemon blueberry recipe from Cooking Light
. These come out perfect every time and they are a breeze to make.
The other day I made these with orange zest instead of lemon and it was just as good.
My next meal from the stash of good ole stand-bys is one that could easily be passed by. It's a ground beef meal that is packed with flavor. T
hai Beef with Chiles and Basil Over Coconut Rice
.
The only thing I swap out is the basil. I use cilantro instead because I just like the flavor of cilantro better with Thai flavors. Since we are talking Thai flavors I really must include this amazing dressing found over on
Spilled Milk Podcast
. The
Thai dressing
is perfect over just about anything.
This next pick is one that my mom has been making and raving about for a couple years now. I must admit when she told me about this sandwich I sort of shrugged it off. No meat, fruit, some mayo and that's it. I wasn't on board. Then she had me over for lunch with a good friend of hers from out of town and it was delicious. I've made it twice since then and will continue making this sandwich.
I can't find a direct link to EDFM posting of this recipe, but I did find the full recipe
here
on Yumsugar, and I must agree that this sandwich does not need meat. In fact, as much as I hate to admit it I think adding a pork related product would only muddy and weaken this sandwich.
My last favorite quick and easy dinner is actually from Bon Appetit Magazine June 2008. I rarely find things that are easy and delicious in this magazine, but this one is for sure a keeper.
New Chicken Parmesan
.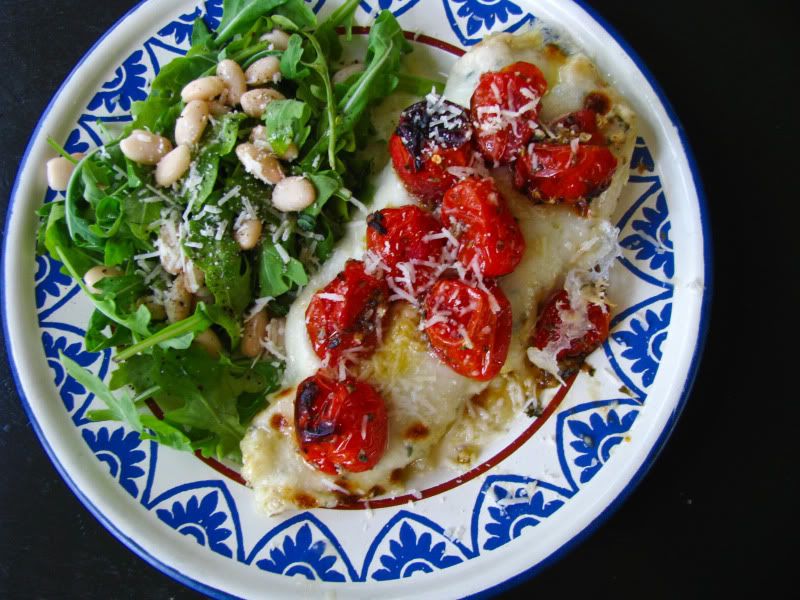 The only thing I change here is I cut each breast in half lengthwise (like a cutlet). It cooks faster and really one whole breast is sometimes too much. This is a great gluten free alternative to the traditional. I'd just like to say that these tomatoes are one of the only whole tomatoes I can eat. So yummy!
Since I can't seem to let a day go by without trying something new I do have a some recent treats. This months Better Homes and Gardens had a story with 50 things to do with peaches. I served these little irrisistable peach bites for an appetizer with our
shrimp bisque
.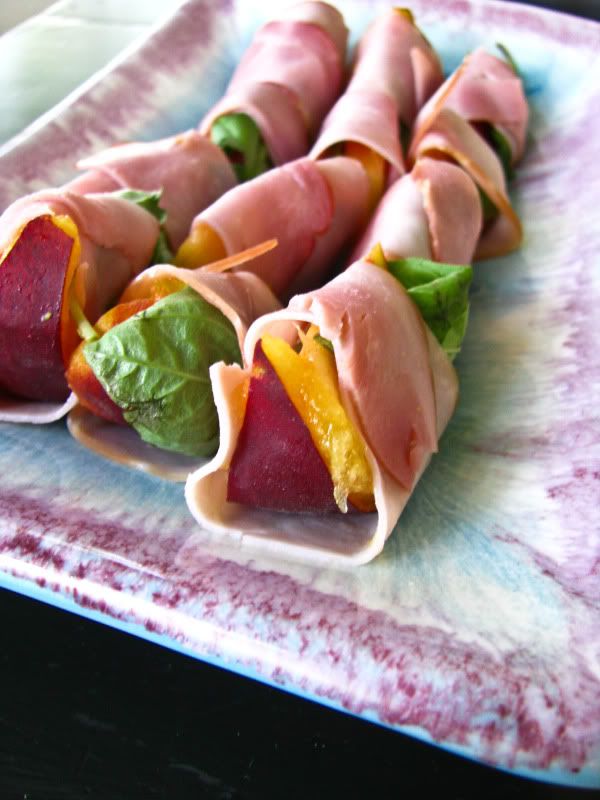 So simple. Ripe and juicy peach + basil + ham. I used black forest ham, but I think any mild ham would be fine.
Just to make this post painfully long, and to give you another magazine to swoon over I must tell you about one other recipe. Last but not least, and not finished, is an ice cream recipe. My friend Kristen came to drink coffee, catch up, and bring me super cool stuff. She brought me a
Ready Made
magazine to further fuel all this pent up DIY angst I have about.
This magazine makes me feel like I can make ANYTHING! Seeing as
Wonder Woman wallets
were imminent, and I am truly a nerd, I decided to make ice cream to slow my crafty self down.
3 Spice Chocolate ice cream
is in the works as I type. After ice cream the only decent thing to do is make
this
.
What are you making this weekend?