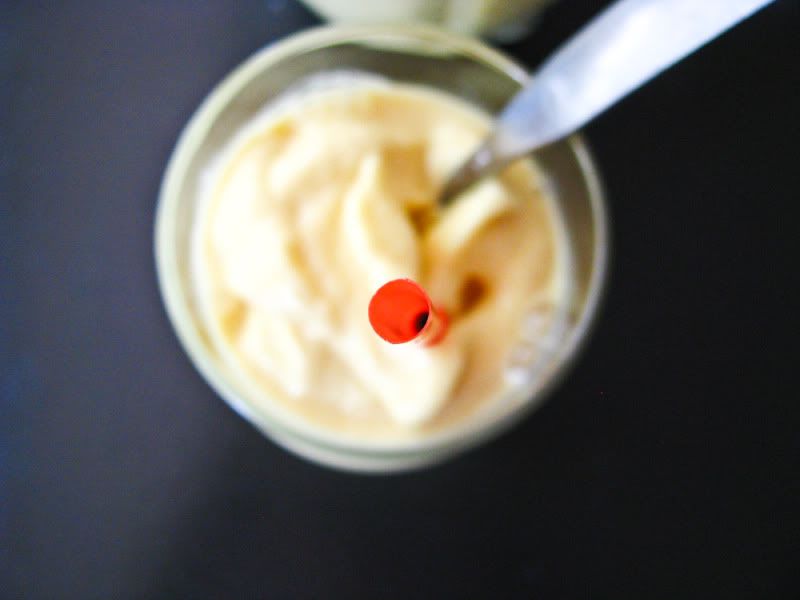 I just dropped off my baby and his grandma at the airport. They are on their way to Atlanta to spend the fourth, and then some, with Uncle Sam. He is off on an adventure to meet with his cousins, swim in the pool, and eat all the shrimp Atlanta has to offer. He may never want to come home.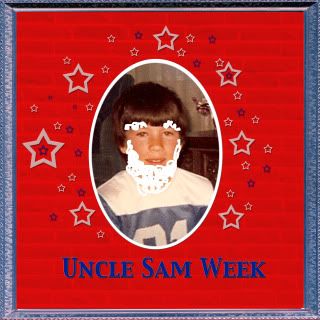 In honor of my first born traveling so far away to spend some time with his uncle, my brother, I will be dedicating this little blog to
Uncle Sam
. If you are a bit disappointed that it isn't the real bearded man with the giant finger in your face, don't be. I've got your patriotic cooking needs covered. But first I'll introduce you to Uncle Sam.
That's me staring up at my brother, making sure I was doing just as he is. He's nine years older me, therefore I bugged him every waking moment of my life. I adored every thing he did, and that includes eating. There are so many small things that I prefer my foods with or without and most of it can be sourced from him. Cinnamon sugar on my pancakes, Nestle Quick powder on vanilla ice cream, and so many Saltines crumbled in split pea soup that your spoon sticks straight up.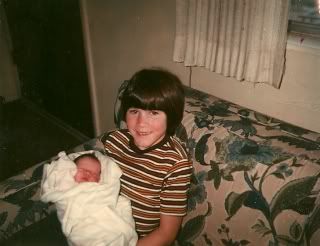 Today I'll share one of Uncle Sam's specialties. Orange Julius. I think that the original Orange Julius was a much more popular stop at the mall when I was growing up. Not many people now have any idea what these are. I have noticed some similar recipes popping up in
magazines
so perhaps they will make comeback. Or maybe it's just rehashing
all
the good things
the 80's had to
offer
.
We lived in a tiny little town at least 45 minutes to the closest spot to procure a Julius. If you had a craving for one, you had better figure out how to make it.
Uncle Sam's Orange Julius
1/2 small can of orange juice concentrate (I like it best when it's not completely thawed)
1 cup milk
3-4 Tblspns sugar
1 teaspoon vanilla
ice
Add milk, concentrate, sugar, and vanilla into a blender. Add ice so that it nearly fills the blender (around 3-4 cups). Blend until smooth and creamy. Serve and sip with a straw.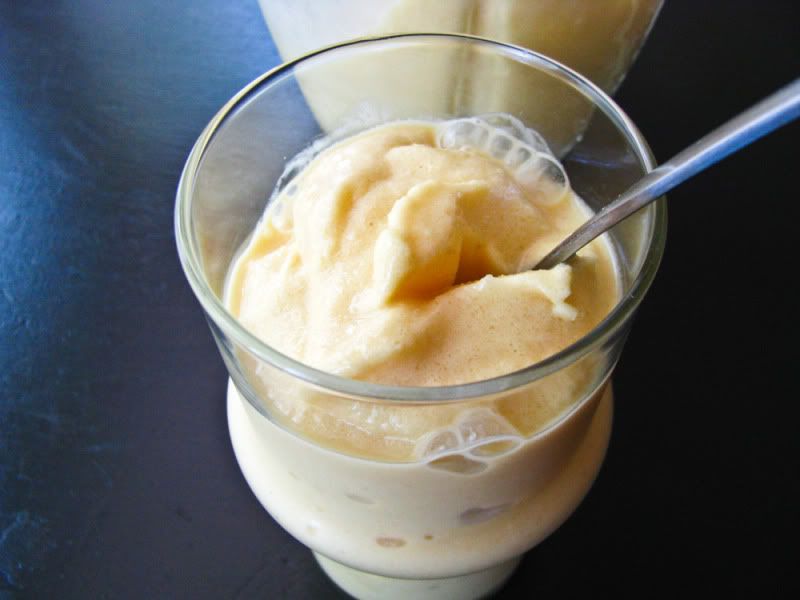 These were just one of my favorite creations from Uncle Sam. He was also the best root beer float maker in all the land. To this day they just don't taste as good.
Stay tuned! We want
YOU
to see all the yummy food
Uncle Sam
has to offer.