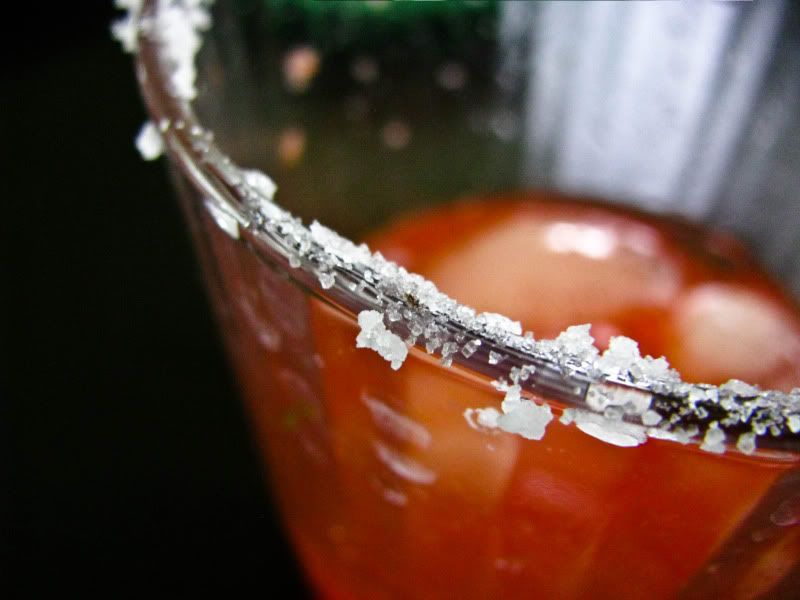 It's Cinco de Mayo. We're having
Margaritas
! I must say I've never been too impressed with a margarita. Well let me rewind and tell you that I never really thought to order one anywhere until a few years ago. I sipped, I pondered, I said - "meh". I liked it better than my husband liked his, but really nothing impressive. I mean we never leave the house people. When I order a drink and food out, I want the earth to move that it tastes so good.
This recent trend of tequila sort of makes me wish I liked that margarita a little better. I read of all these variations; tequila Añejo, tequila reposado, and silver tequila. What have a I been missing? What is laying outside my door?
So the other night I left my house. We're not talking agoraphobia here folks, just a simple homebody. I decided to get out and about with others who are constantly thinking of the next food to put in their mouth. I decided to check out a local group called
Foodies Like Us
. There is actually a group in Denver that meets for similar food gatherings. Their latest event was something called Shaken and Stirred. I grabbed my mom, made a reservation and we were off to the swanky land of Scottsdale.
That's my mom, in front of the swanky entrance to the spa and Camel Back Inn. It was beautiful. We swerved around the property to the back where the spa is. My mom told me that they used to live on the other side of the mountain where the resort is built. She said when they were building it they would detonate the dynamite and it would freak her horse out. Knowing my mom she was probably on that horse every second she could get and found herself on the ground next to the beast after such blasts.
Thankfully she didn't hold it against the resort, and we were able to go sip and munch on delicious bites. At this event Foodies Like Us highlighted the wonderful book from Paul Abercrombie (don't know if there is any relation to the store, I didn't ask)
Organic Shaken and Stirred
. For thirty bucks we got the book, amazing tastings of food from the spa, and the chance to see the the organic shaking and stirring in action.
This is
the author
demonstrating a "pink drink". Not my favorite of the evening, but you can't blame me when there were such libations as; elderflower and thyme bubbly, vanilla pineapple mojito, organic beer, wine and oh the food.
This is a goji berry tart and sadly the only decent picture I got. It was hard to balance delicious mixed drinks, and appetizers all while having a paraffin wax hand massage (I know it is rough). They brought out delicious shrimp in mole on sugar cane sticks (the sticks are not edible in case you are wondering. I tried). Seared ahi tuna with a quail egg on top. The highlight of the night was beef tartare. I will admit I was scared. Visions of e-coli spores running rampant through my body kept coming to me. But I figured that would be bad for business at the spa, so it was probably ok. It was better than ok, it was buttery and sweet with a salty Parmesan crisp. I want another.
What I really want to talk about is the book. I'm thrilled that there is a cocktail book out such as this. Sure all the ingredients in the recipes call for organic and that may be a far stretch for some, but what is really of true value is the beginning pages. Abercrombie discusses reasons
why
organic cocktails, of where to find these organic spirits, and more importantly some companies that while they may not carry the organic label are true "green" companies. I enjoyed reading about
Square One Vodka
, which was part of this
wonderful drink
that I didn't even know was organic. I like that he took the time to mention these companies. The drinks look beautiful, and he has a very laid back feel to his bar theories.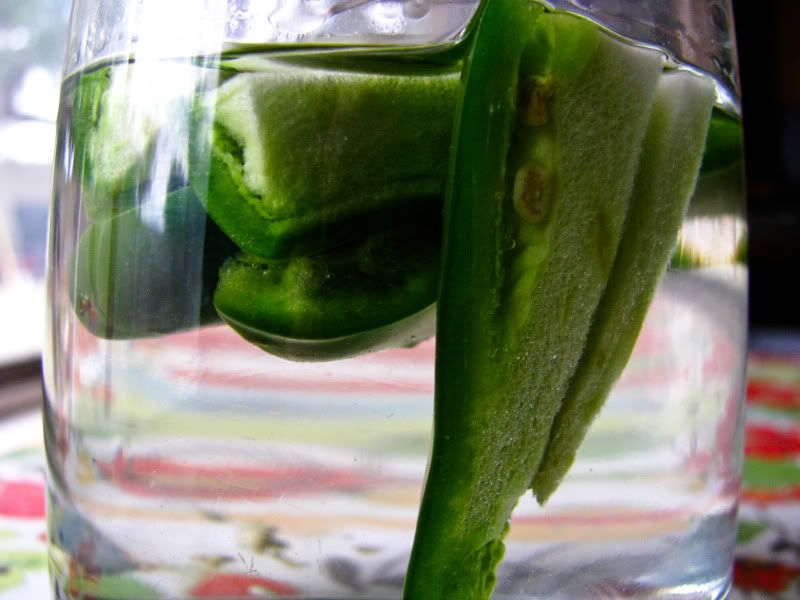 Here's the fruits of inspiration from this book. A drink for your Cinco de Mayo celebration. A margarita that makes me close my eyes, sigh, and say "
that
is a good drink".
It's a strawberry jalapeno margarita. It starts with an infused tequila, silver or blanco tequila. However I think you could experiment here. For some schooling on the different types of tequila
Everyday Food
has a nice little round up of what is what in this months issue. I had read that infusing the tequila with jalapenos seeded for a couple hours left a nice slight heat and fruitiness. I wanted heat. I wanted to know that there was jalapeno in the drink. I let it sit all day and the result was this wonderful warmth that fills your entire mouth, rather than pinching at your tongue.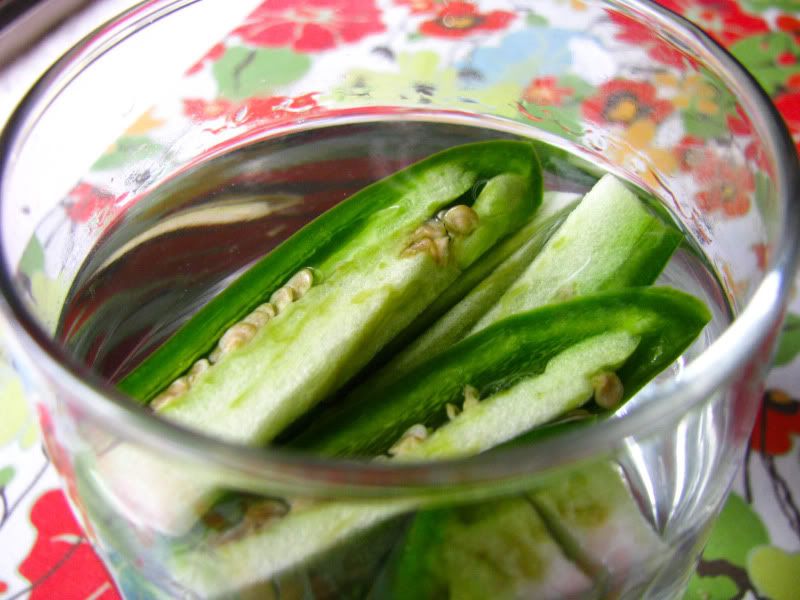 Strawberry Jalapeno Margarita
Makes 2 margaritas
1 cup tequila
1 jalapeno sliced lengthwise, seeds and ribs left in
Place sliced jalapeno in the tequila and let it sit, room temp for at least 6 hours.
1/2 lb strawberries hulled and cut in half
2 Tblspn agave syrup
Blend strawberries and syrup in food processor or blender until smooth. You can strain this for a more even consistency. I like the organic nature of seeds in my drink, but it could be off putting for some.
Put it all together: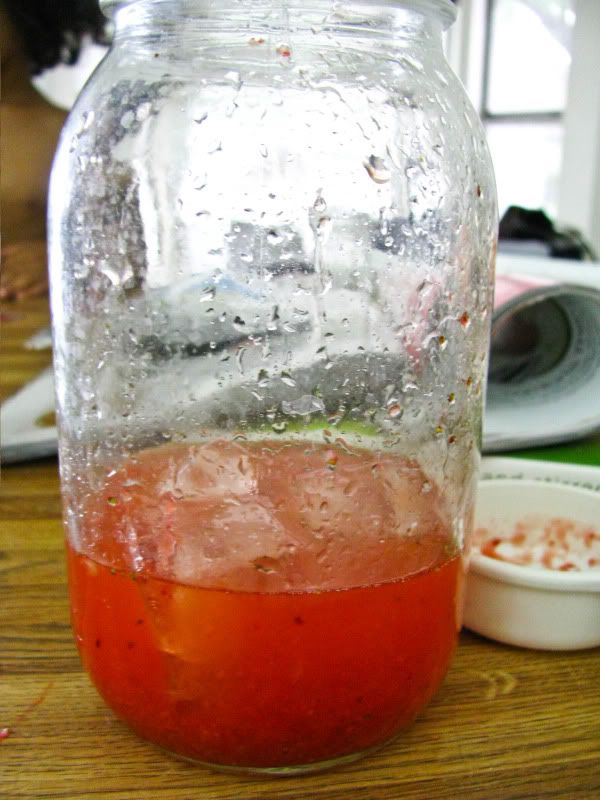 This is my shaker. I know, it's swanky too right? Ok, so it isn't any
fancy cocktail
shaker, but it gets the job done and it saves me from storing an extra gadget.
To a shaker add:
1/2 cup strawberry puree
1/2 cup triple sec
2/3 cup infused tequila
juice from 2 limes
ice
If it tickles you to have a bit of salt on your rim use a piece of the lime and rub it around the rim of your glass. Abercrombie had a great suggestion of just salting the rim of half the glass, that way you and your guests could chose either route. I rimmed the glass with a mixture of salt and sugar. I rubbed half the rim of the glass with lime, and turned it upside down in a mix of half sugar and half salt. Add cubes of ice to your glass and prepare a garnish of strawberry, lime or even jalapeno.
In a shaker add all the ingredients ending with ice. Shake vigorously with a lid. Strain your drink into your prepared glass and add your garnishes.
This is one refreshing drink, great with any holiday you chose.