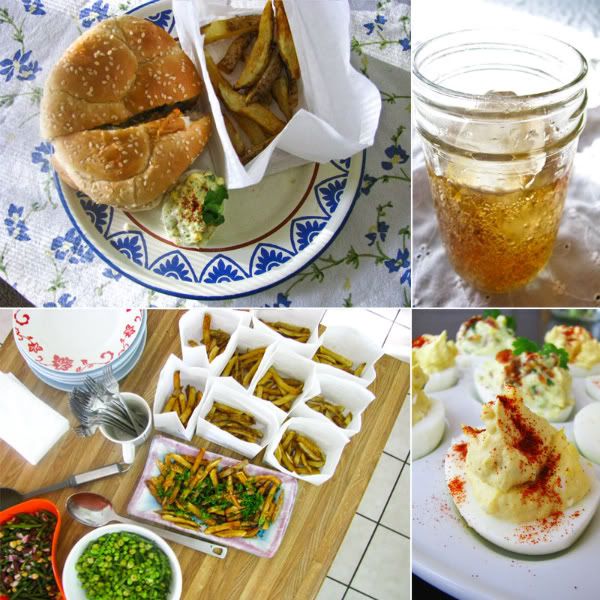 Once again Foodbuzz has allowed me to participate in their monthly
24, 24, 24 event
. 24 meals, 24 hours, 24 blogs. This month they are rolling out a new ebook so be sure to check it out and drool over all of the other 24, 24, 24 events that took place this weekend. I even have a giveaway for you at the end, if you can make it through this beast.
This time around I decided to explore the realm of classic foods and just what happens to these classic foods in the hands of a food blogger. You see a food blogger just can't help themselves but to add their own zing, and tinker. Especially when something is already good, but presents itself in the form of a blank canvas.
I wanted to know if all this meddling was really worth it, or did it just detract from all that makes something classic. Certain foods are classics for a reason. They have withstood the test of time and continue to top people lists of favorites. What right do I have to go and tamper with something that is already great? I needed to research this phenomenon of food trespassing and invited a couple friends and family to help me judge just what is better - the classics, or my spins?
There is no better genre of food loaded with classic favorites than picnic or barbecue foods. Deviled eggs, 3 bean salad, french fries, hamburger, beer, soda, and ice cream to top it off. Within these foods I made 2 separate versions for accurate judging.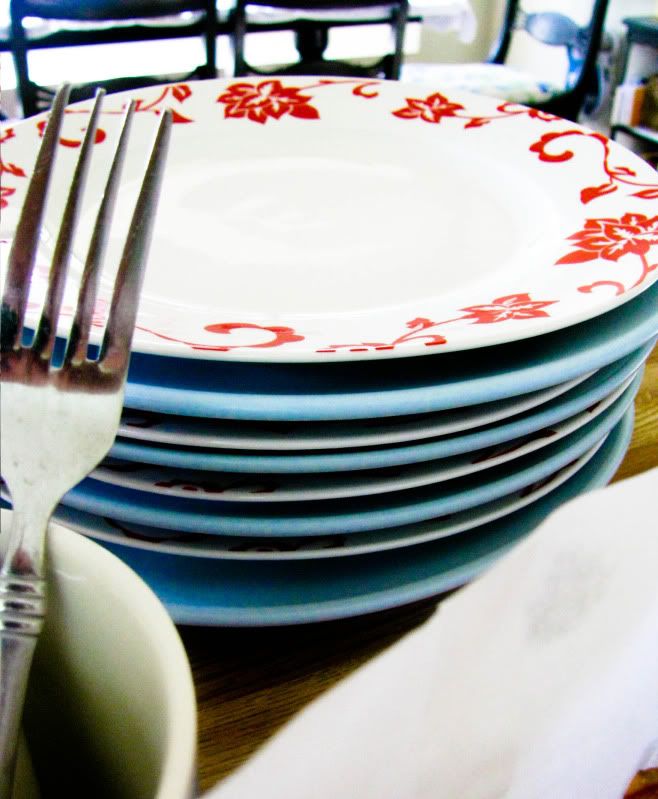 The table was set. The food was made; a classic and my spin side by side. The judges came ready for a showdown. There was criteria to be met; look, taste, staying power, and character. Oh yes, it is scientific around here. And now I have the results.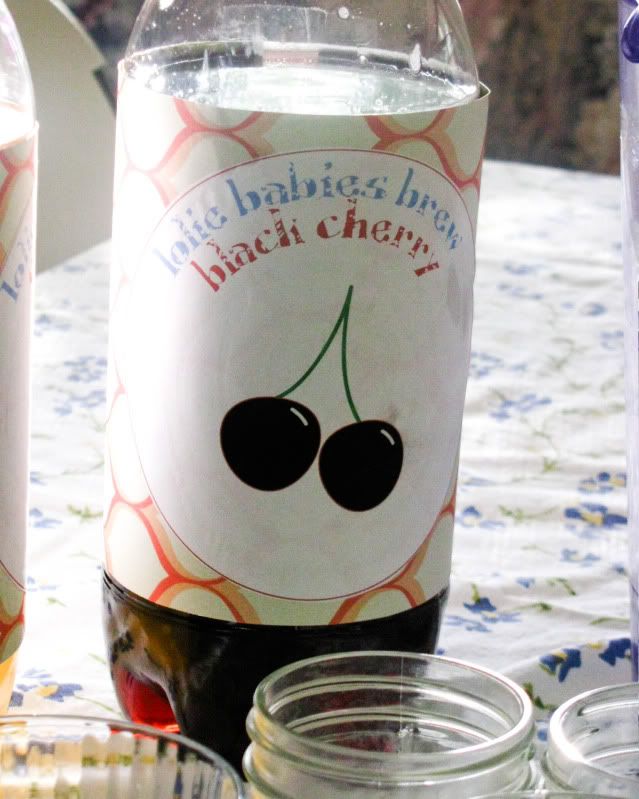 Soda has been around since around the 1800's. The flavors seem to evolve and change, but fizzy bubbly drinks still generate lots of hype. Cream soda is no different. One of the first patents for cream soda was granted to one Canadian, James William Black in 1886. His recipe involved egg whites, flavoring, lime juice, lemons. I did a quick internet search and found some different recipes for cream soda and roped the kids in to try our hand at crafting our own.
One recipe
involved fermenting yeast with sugar, water and a bit of vanilla flavoring. I was very skeptical of this, but figured it would be a great science experiment. Needless to say that was all it was. It was for sure not great. We also whipped up some black cherry cream soda not involving fermentation which also fell a bit short.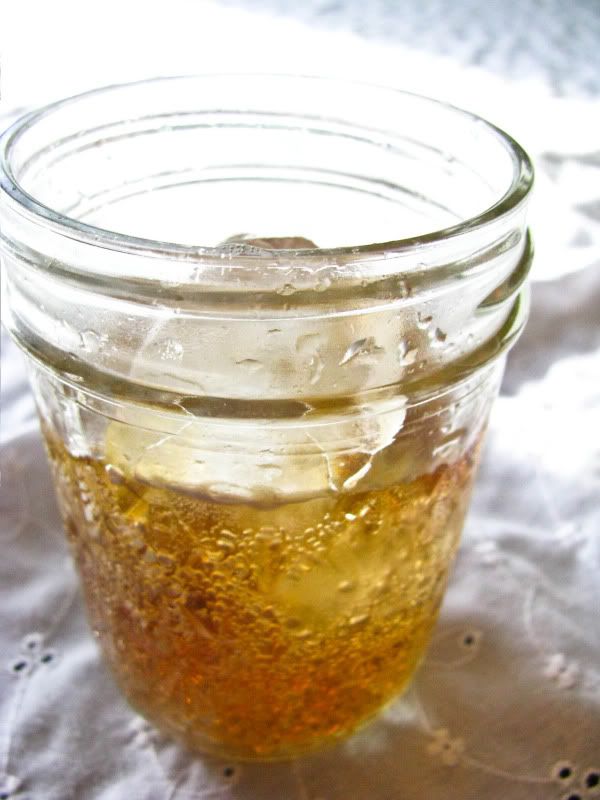 Honestly all of our soda efforts were just fun. I left the soda making to the experts and poured a glass of
Virgil's
. Perfect, smooth, creamy and refreshing. Sure it doesn't carry our super cute Lolie Babies label, but it was the clear winner in this match.
Still thirsty? How about a beer, or my beer lemonade? We tested both, and also had some discussion of the beer that I apparently should have gotten. I bought a
Tap Room No. 21 pale ale
as our classic beer. However, there was discussion that what we should have actually been drinking where those domestic
Kings of beers
. They are still holding the majority of beer sales and I really should have bought a can of Bud or something like that to taste. I just couldn't do it, I'm just not a fan. Where do you stand? Good old school domestic, or new and improved microbrew?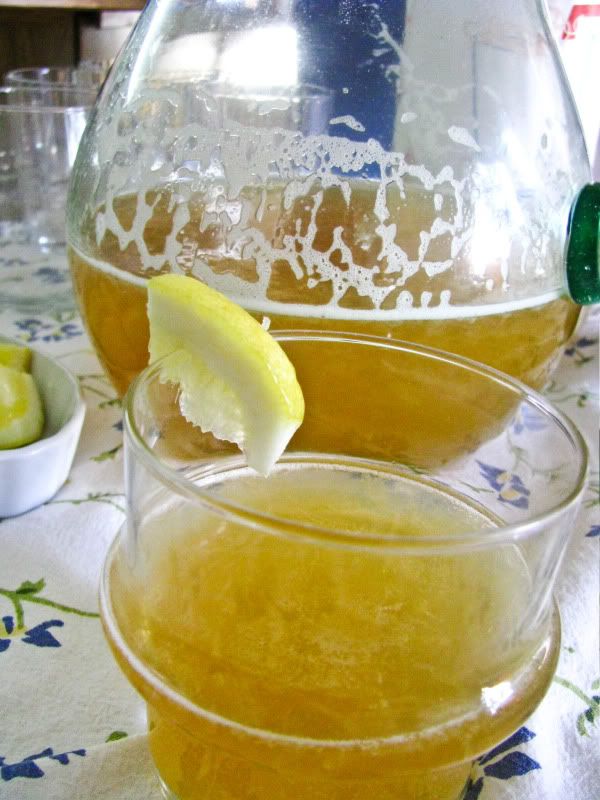 The beer lemonade won out with 100 total points. I couldn't agree more with this score. This drink has many names, Shandy, summer beer, but whatever you name it is light and easy to drink.
Beer Lemonade
3 beers (hefeweizen is my favorite for this recipe)
1-1 1/2 cups lemon juice
2/3 cup simple syrup
I add beers to a pitcher then add lemon juice and simple syrup. I start with just 1 cup of lemon juice and add more to taste. Serve with lemon wedge.
The deviled egg is like the perfect mouth full. It's smooth, creamy, a slight bite and you can't just eat one. The 'term' deviled has been found since the 1800's and who knows how long the deviled egg has graced many a picnic table. I remember my first encounter was on a fishing trip with my dad. We took ribs and deviled eggs and it was a wonderful lunch next to the water. I immediately was interested in how to turn a simple egg into deviled.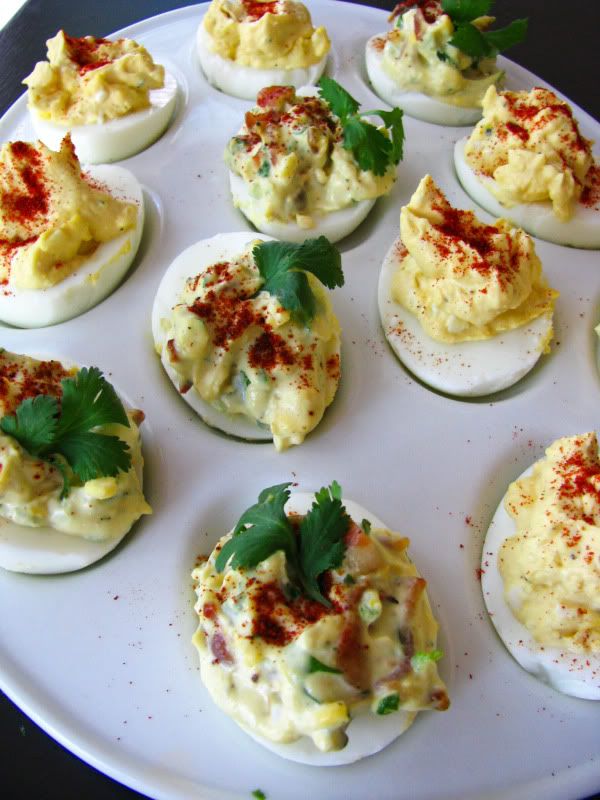 Ok, some may say that the addition of bacon into my deviled eggs with a spin should be against the rules. I'll ask that you take a bite of mine and then bring up rules.
Classic Deviled Eggs
6 eggs hard boiled
1 teaspoon yellow mustard
1 teaspoon dijon mustard
pinch of cayenne pepper
1/2 cup mayonnaise
Halve all of the boiled eggs except 1 and place yolks into a large bowl. I usually use the 1 egg that doesn't peel perfectly and chop it white and all and add it to a bowl of yolks. Use a fork or pastry cutter and cut egg yolks into very small pieces. Add remaining ingredients and mix until smooth. Spoon the yolk mixture into halved egg whites. Sprinkle with a small amount of paprika.
My jalapeno, cilantro and bacon deviled eggs were a clear winner with 121+ points (my mom is a retired teacher and still needs an outlet for her years of +'s or -'s). Chalk another one up for the food blogger.
Cilantro, Jalapeno and Bacon Deviled Eggs
6 eggs hard boiled
4 strips bacon cooked and broken into small pieces
2 teaspoons lemon juice
1/2 large jalapeno diced finely
2 tablespoons chopped cilantro
1/2 teaspoon cumin powder
1/2 cup mayonnaise
Halve all of the boiled eggs except 1 and place yolks into a large bowl. I usually use the 1 egg that doesn't peel perfectly and chop it white and all and add it to a bowl of yolks. Use a fork or pastry cutter and cut egg yolks into very small pieces. Add remaining ingredients and mix until smooth. Spoon the yolk mixture into halved egg whites. Sprinkle with chili powder and garnish with cilantro.
Do you know anyone that can resist a good french fry? Thomas Jefferson couldn't and apparently he is who Americans should thank for bringing these wonders to this country. He spent some time in France in the late 1700's and after eating pommes frites abroad, served similar potatoes at a dinner calling them "potatoes fried in the french manner". It's no surprise that Americans are still in love with these, almost to a fault.
The boy helped me make these with our
new french fry cutter
. This tool makes cutting fries way too easy. I used it to make carrot sticks in record time as well. If you find yourself wishing you had one of these about now, keep reading, you may want to try your hand at winning one.
I fried all the fries the same way, the tried and true 2 fry method. First you soak your nicely cut fries in cold water so they do not oxidize. Take out a batch and dry in dish towel. Fry all your cut potatoes in batches of oil heated to 350 degrees until they are light brown and cooked through. Drain on paper bags or towel.Then heat the oil up to 400 degrees and run the fries through a second time to crisp the outside. Salt immediately, unless you would like to make my garlic herb fries.
These were the only dish to receive a perfect score with 125++ points (there she goes again). I didn't want to deviate too far from a french fry, I just wanted to bump it up a bit.
Garlic Herb Fries
Fried fries from up top
2 Tablespoons butter
2 cloves garlic minced fine
2 Tablespoons parsley minced
Melt butter in a small sauce pan over low heat. Add the garlic and let it slowly cook over low heat. As soon as you see the garlic start to turn brown remove it from the heat until you finish frying the fries. It will turn somewhat crisp without turning bitter. Pour over the fries and sprinkle with parsley. Salt if needed.
With classic foods come fat, sugar, and richness. You need something green to balance it out, or maybe add to your plate so you look a little healthier. I think that is one of the reasons why 3 bean salads have made it's way into many barbecues or picnics.
I have
already posted
about 3 bean salad and I pretty much used the same technique but I used fresh green beans and agave syrup instead of sugar. It is a very forgiving dish, but not the winner.
This green bean dish came about as many of my creations do; last minute, on the fly, and using up ingredients that were knocking on the door of past date. It was the winner of the salad category with 96 points.
Green Bean Surprise
4 cups steamed green beans
1 can garbanzo beans drained and rinsed
8 oz edamame
4 green onions diced
1 avocado
1/2 cup lemon juice
1 cup parsley
1/4 cup olive oil
1/2 cup cilantro
1 clove garlic
1/4 teaspoon coriander
salt and pepper
Add beans, garbanzo beans, edamame, and green onions into a large bowl. In a food processor add the other ingredients and mix well. Pour over the beans and mix gently until all the beans are coated.
The main event. The meat and bun that is the base for so many fast food places scattered all across this great land. Not just the drive through, but the quick dinner, and the backyard grilling feast.
Serious eats
gives a great rundown of the spotty history of the burger. I think the hamburger has gone through so much revival as many
high end restaurants
are serving their version of burgers and many a citizen cannot deny the fact that a good burger tops their list of what they indulge in.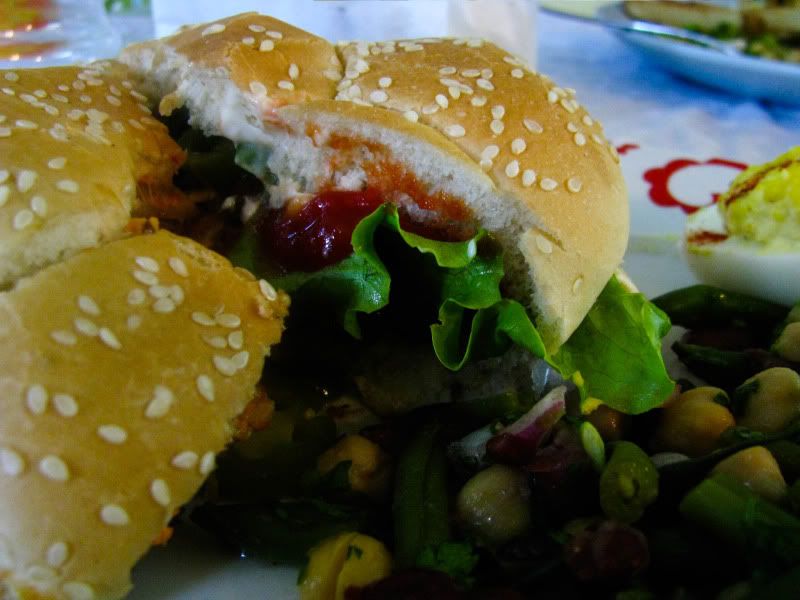 The best burgers start with the best meat. I found some very nice grass fed beef at Whole foods.
Both burgers started with the same base flavored burger. Grated onion, cumin powder, mustard powder, salt and pepper. Grill to perfection, top with your favorite toppings, or venture to the world of my kitchen and add some gussy toppings.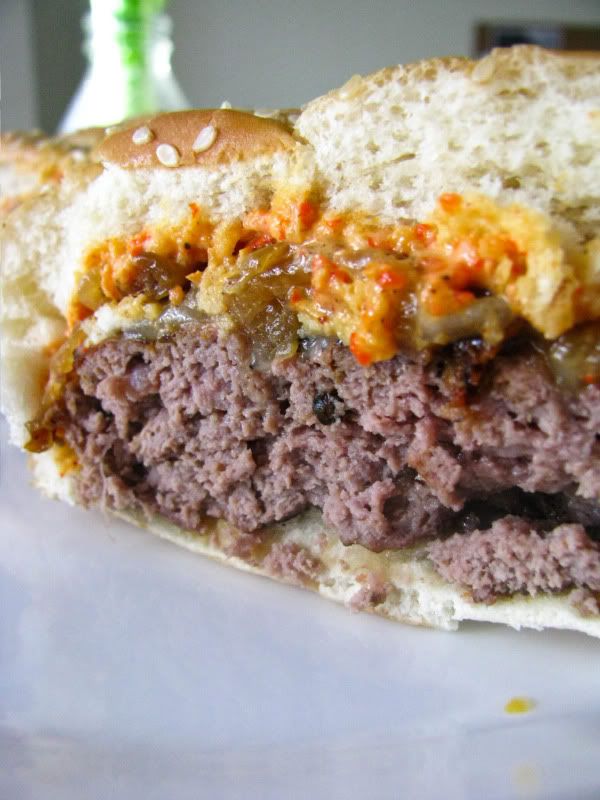 Havarti cheese, caramelized onions, and red pepper mayonnaise. These were another winner with 124+ points. The classic never lets you down, but this melted in our mouths.
We were all screaming for ice cream at the end. The hand cranked ice cream churn was invented by a housewife in 1843 and thank goodness for the electric ice cream maker. Home made ice cream feels like such an accomplishment, it never disappoints. I chose a plain Philadelphia style vanilla bean ice cream for the classic. There is no going wrong with vanilla but personally, I was astounded by the outcome of our judging. This vanilla was the winner of the ice cream category (just wait).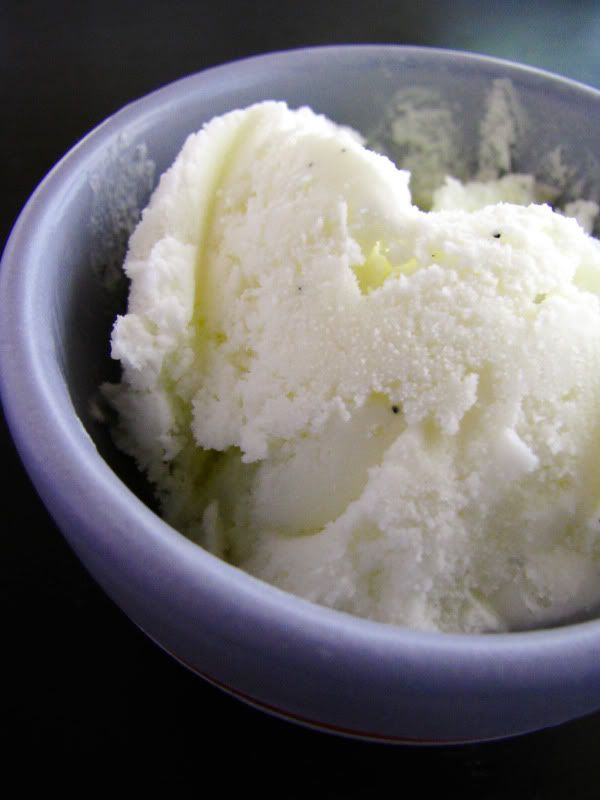 Vanilla Bean Ice Cream
2 1/2 cups whole milk
1 1/2 cups heavy cream
2/3 cup sugar
1 vanilla bean split and the beans removed and added to cream
Mix all ingredients thoroughly and add to ice cream maker. Follow instructions and place in the freezer to harden for 3 hours. Remove 10 minutes before serving to soften slightly.
I wanted to serve an ice cream with plain vanilla that completely exemplified what tinkering can lead to. I went outside my own ice cream repertoire to a place where ice cream exists to inspire and bring one to their knees. A place where flavors go beyond your frozen dreams without the hint of kitsch and feel only ridiculous because you didn't think of it first. I turned to
David Lebovitz
, the place I go to read recipes I wish I could create.
I chose to make his
carrot cake ice cream
and all I can say is that I'm shocked that this lost to the vanilla by 4 measly points. This ice cream is perhaps the
only
ice cream that I'll ever eat again. It was silky, rich, sweet, with bites of fruit that are chewy and full of flavor themselves. As my mom said "it tastes just like carrot cake only better than carrot cake." I guess you can't win them all.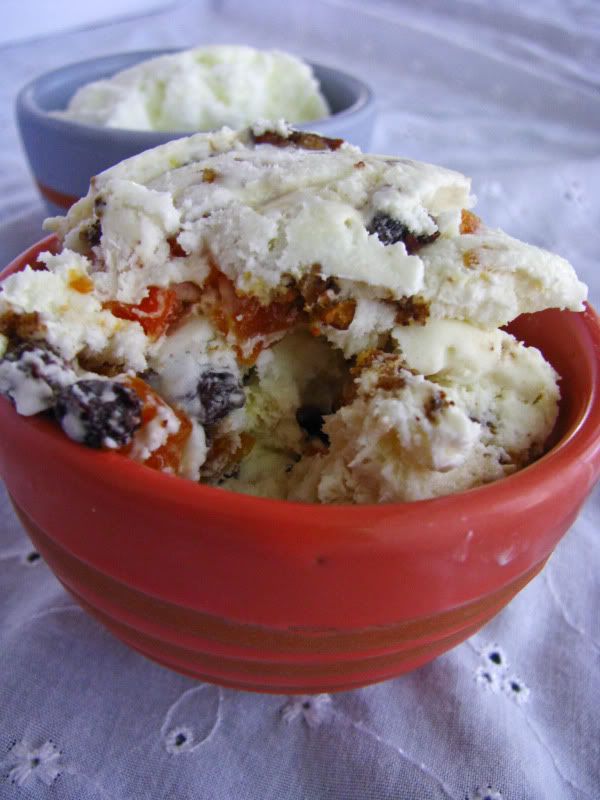 Certainly the spins took the most wins, but I honestly think it's because the classics are the base. The spins are the small folks standing on the shoulders of giant classics. I think what we
have
proved here is that when you add more fat, a couple of spices, and a few tricks up your sleeve you've only improved upon what is already great.
I'm still recovering from my food coma, and if you've read all of this you deserve a little something too (or at the least had the finger fortitude to scroll to the end). Because I feel so fortunate to have
Foodbuzz
give me the means to tinker and spin, I thought I'd give you chance to have your own
potato cutter
.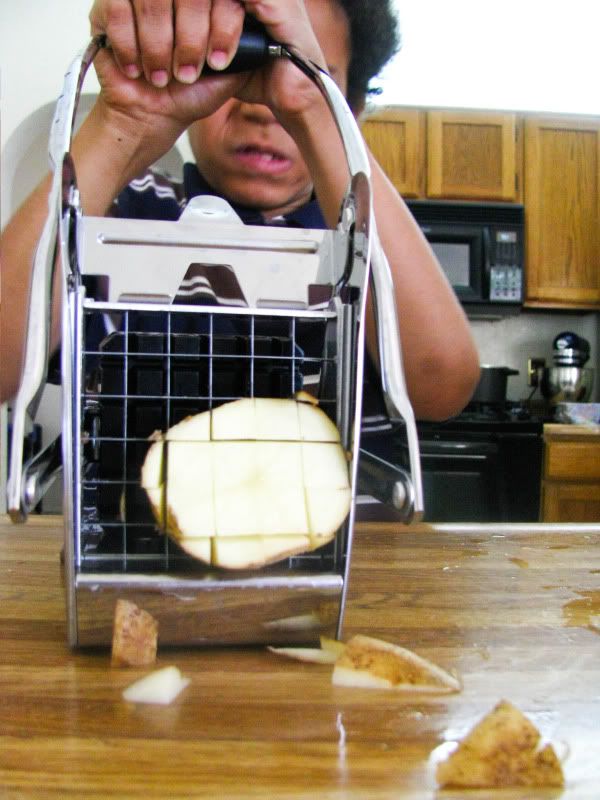 This will honestly make it so it's spud to fry in 60 seconds. It also works great for other vegetables too. It has this ultra suction on the bottom so it's sturdy enough for the kids to handle.
Here's the rules:
Leave me a comment answering the question:

Tell me your favorite classic food - mac and cheese, hot dog, burgers, chips, pancakes, fried chicken etc. then tell me what spin you put on it.
I will accept entries through Sunday, May 2nd and will announce the winner of the Potato cutter on Monday, May 3.
Sorry to all of my out of country friends, I must keep this to the states. I'm very sorry and will try to work something out when I get a chance to do another give away.
Good luck to all and happy spinning.
Thank you again Foodbuzz, with out you my table would not be so tasty!