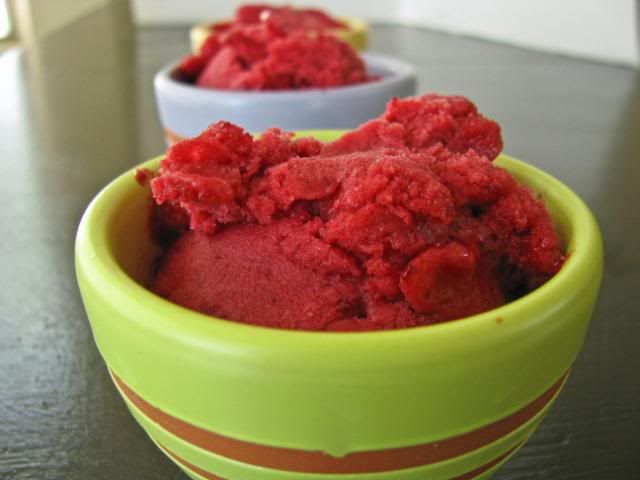 There sat in my fridge a nice bulk container of organic plums. I do believe they were of the Satsuma variety. Nice and dark, juicy and red. They just sat in there being constantly passed over. I'm sure they saw them. They were right in the front as everyone reached behind them for the apples or peaches. I'd already used a good amount for baby food and my own snack, but couldn't get anyone else to try them.
I decided to try a different route. It's all in the packaging. Throw some fancy jazzy packaging around anything and you could get any sucker to buy it for twice as much. I am most definitely one of these suckers. I even like to sit and gawk at cool packaging.
Go here
for some of the best.
How do you repackage a plum? You throw in a bit of ginger, some simple syrup and send it for a ride in the ice cream maker.
This sorbet would be so perfect on top of a grilled peach or nectarine. In fact I might just brave the heat to go buy more propane JUST to grill some peaches.
Plum and Ginger Sorbet
4 large plums seed removed and chopped into large pieces
1 cup water
3/4 cups sugar
2 Tablespoons candied ginger chopped
2 Tablespoons lemon juice
Place plums in a food processor and process until smooth. Spoon contents through a fine mesh sieve to remove the skin (this step is purely for aesthetics). Place puree in the refrigerator to chill. Heat sugar and water over medium heat until the sugar is dissolved. Add the ginger to the simple syrup and let sit until cooled. Refrigerate syrup for at least 4 hours with the ginger. Place syrup and plum puree in food processor and blend until the small ginger pieces are chopped up and mixed in. Pour mixture into your ice cream maker and follow manufacturer directions. Place in freezer safe container and freeze until firmer, about 1 hour. Serve and enjoy!
Other repackaged fruit ideas
Grapes. If my wee-ones don't devour and entire bowl of grapes in 1 day all I have to do is freeze them. They become like candy and they can't get enough.
Frozen chocolate dipped bananas
More delicious frozen-ness in internet land:
Sticky, Gooey, Creamy, Chewy Flavor of the Month - Strawberry Creme Fraiche
Giddy Gastronome
makes the most beautiful Popsicles
On the other side of the fruit spectrum - Bacon.
Candied Bacon Ice Cream