A few months ago in
my first meme
I admitted to the fact that I will on occasion hide wee little treats for myself. It's almost guaranteed to be of the sweet variety, and most of the time it's a little morsel of really good chocolate that I can stretch out over days. Some days it's a candy bar that I chip off bits for a week if I'm feeling reserved.
My perfect alone snacks are at there peak when I have time to enjoy them with a cup of coffee. A nice slowly sipped cup of coffee. Just like this wonderful Cortadito From the
Liberty Market in Gilbert
.
I wanted a frozen treat that was just like my hidden stash. A nice reprieve while the kids are asleep. What better way than a coffee with a candy bar on a stick.
I've even thought about hiding these in the back of the freezer for my secret nap time treats, however if it's frozen with a stick in it, it will be found.
Hide Away Coffee Candy Bar Pops

1/2 cup cold brewed iced coffee**
2 Tablespoons simple syrup (more or less depending on how you like your coffee)
1/2 cup vanilla ice cream slightly softened
1 Tablespoon Kahlua (optional, but it tastes so good!)
1 chocolate toffee bar chopped into thin pieces
Place iced coffee, simple syrup and ice cream into a bowl and stir together. Pour mixture into popsicle molds filling molds only half full. Place 1/2 teaspoon of chopped candy bar into each mold. Place in freezer and chill for 20 minutes. Fill molds with remaining liquid mixture and top with remaining candy bar. Insert popsicle sticks and freeze for another 2 hours until completely frozen through.
**Cold brewed iced coffee is my favorite way to make iced coffee. Not only is it very easy, but it produces the smoothest iced coffee you will ever have. You can find how to make cold brewed iced coffee at the
Smitten Kitchen
.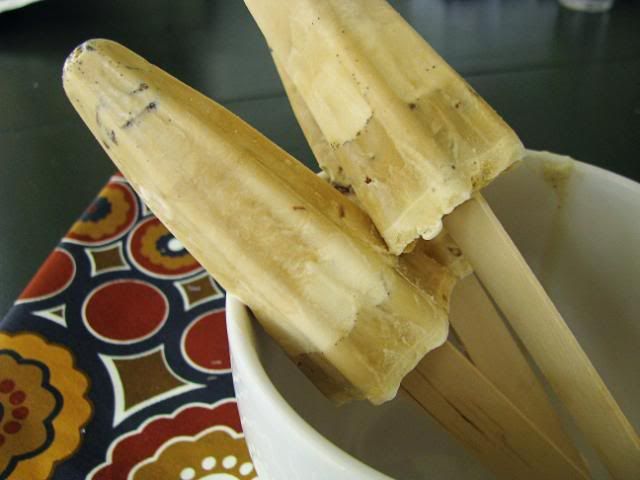 Enjoy these wonderful frozen coffee's while taking some nice quiet time for yourself. Here are some other cold treats to peek at while slurping on your coffee:
Heath Bar and Oatmeal Stout Ice Cream
- another alone time treat.
Cherry Ice Cream
with no machine and no eggs
Cool Popsicle Molds
over at The Kitchn